| | |
| --- | --- |
| About resort Krasnaya Polyana | |
Krasnaya Polyana – a ski resort located in the Adler district, 75 km from the center of Sochi, at an altitude of about 600 meters above sea level, surrounded by picturesque mountains of the Main Caucasus mountain range.
Krasnaya Polyana is protected from the north by the mountains of the Main Caucasian Ridge and has a unique mountain-temperate maritime climate. Called "Red Meadow" in 1878 thanks to dark-red leaves of a fern and cherries in the fall. Mountain slopes at Krasnaya Polyana are less steep terrain than, for example, the valley of Mount Elbrus, which allows to ski as beginners, as well as athletes – professionals. Offers a wonderful holiday not only for skiers in winter, but also in summer: quiet, clean air, trekking, rafting, fishing, jeep safari, cycling and horse riding, paragliding, etc. Place of the Winter Olympic Games in 2014. Located in the Big Sochi, 40 km from the airport and 70 km from the center of Sochi. Unique mountain-sea resort at an altitude of 567 m above sea level. The only ski resort, located in 30 minutes from international airport and the Black Sea coast. Air temperature in winter -5-12 ºC at night and 0 +5 ºC during the day, summer +18-20 ºC. The first road from the sea to the Krasnaya Polyana was built in 1898. Solid snow on the lower slopes (at an altitude of 550-600 meters) is set to mid-January, and by March reaches 2 m or more. Skiing season lasts from late December until the second half of April.
Skiing complex Krasnaya Polana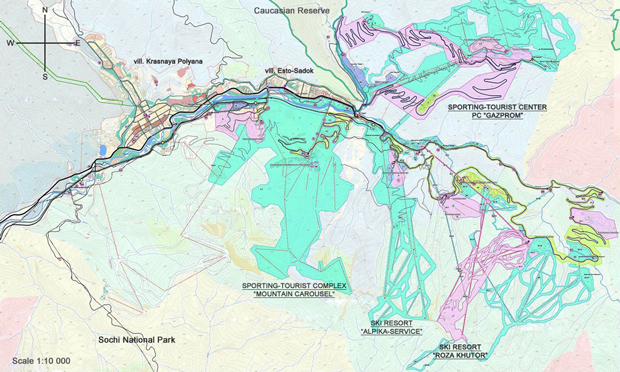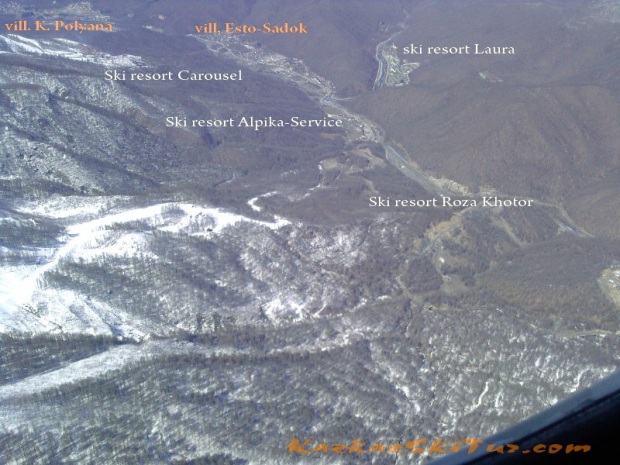 The new lifts and tracks, projects
By now at Krasnaya Polyana 3 ski resorts are functioning.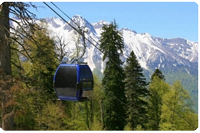 Ski resort of Gazprom "Laura", which is located in Krasnaya Polyana, opened in January 2008. But fans of winter rest have already managed to give its the name – "lift Gazprom".
The ski resort includes six cable-ways and 16 tracks on the ridge Psekhako.
The first lift – gondola type, its length – three kilometers. The capacity – two thousand people per hour. Here operates a modern high-speed lift to the platform Psekhako (1436 m above sea level). From this site in different directions laid five cable-ways with a total length of about 5 km – three chair-lift type and two Tow road.
In all available 16 tracks of varying difficulty, which are divided into several types. These are extreme tracks with steeper slopes, which are suitable for real professionals, and slopes for experienced skiers, and also tracks with gentle slopes for beginners and children. Near the station "Laura" located an open and covered parking for 400 cars. There are places to rent equipment, changing rooms, lockers, medical center. Complex "Laura" has a separate two-way access for buses and hikers.
On the territory of the ropeway are shops, boutiques of clothing brands (Rossignol and Bogner) and sporting goods, restaurant, bars.
Nearby hotels: Grand Hotel Polyana, chalet "Polyana".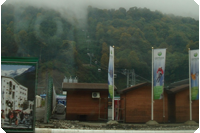 The ski resort "Mountain Carousel" – a world-class Olympic object in Sochi – the capital of a future Winter Olympic Games in 2014. The first stone of the ropeway was built in 2004, and in September of 2006 started the first line of the ropeway. Construction of sports and tourist complex will be completed by 2012.
The project envisages construction of 20 cableways – gondola lifts, chairlifts and tow type. Ski slopes of the complex, the total length of which will be more than 70 km, will occupy the area about 350 hectares. The latter is the upper lift station will be located at an altitude of 2400 m (by now the maximum height for skiers in Krasnaya Polyana is 2,238 m). Construction of tracks take place in accordance with the existing terrain, which implies a minimum change of the natural landscape.
In addition to new lifts and tracks on the territory of cableway "Mountain Carousel" planned traid-entertainment centers, four- and five-star hotels, cottages, apartments of club type. The complex is designed for accommodating 12 thousand tourists at a time.
26/12/2008 was the opening of 2 cableways "Mountain Carousel": put two tracks. Their length – 6470 m. At the same time here can ride – 2 thousand people.
Nearby hotels: "Tatiana", "Olymp", "Gala Alpik", "Aibga", "Vertical".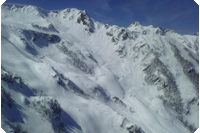 Ski Resort "Rosa Hutor" (Rose Farm). Implementation began in 2006, the project is designed for 10 years. Complex for professionals, complete infrastructure, snow cannons. In 2010, on the basis of the complex is planned major competitions in Alpine skiing world level. Total length of tracks 60 km, capacity 9500 people per day.
In the 2010/2011 season at a ski resort, "Rosa Khutor" worked 4 Lifts: "Olympia", "Forest resort", "Caucasus Express" and the "Wolf Rock". The total length of the existing tracks 15 km, including the Olympics – 9 km. Upon completion the resort will have 18 lifts, ski tracks totaling about 80 km. Tracks will be located at a height of from 575 to 2320 m above sea level, the total elevation change – 1745 m. The maximum capacity of the complex is 10 500 people per day, the capacity of tracks – 9500 people a day.
Ski resort "Rose Farm" offers to tourists: The storage rooms, a wide range of sports equipment in the rental: Skiing and snowboarding; Services Instructor qualifications.
Nearby hotels: "Park Inn by Radisson Rosa Khutor", "Tulip Inn Rosa Khutor"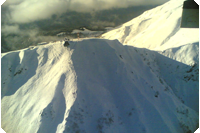 The ski resort "Alpika-Service"
"Alpika-service" – was the first lifts in Krasnaya Polyana opened in 1993. Complex has equipped tracks, total length of 25 km. On Mount Aibga there are ski lifts, which serves the highest vertical drop in Russia in 1698 meters. It has 5 lines of lifts and raises the tourists from 540 meters to 2238 meters above sea level.
• The total length of public descents – about 25 km.
• 5 Tow road and chair-lifts
• 4 lines of ski lifts: 1st – 540 m, 2nd – 790 m, 3rd – 1144 m, 4th – 1500 m, 5th – 2238 m.
• Ski slope with a height difference of 1,688 m and a length of about 9 km.
• The ski-track along the first, second and third lines of the lifts laid in the forest zone, its width varies from 50 to 150 meters and the length of the standard version – not less than 7 km.
• 4-th line, passing along the ridge, allowes to ski on an unbounded area in the alpine zone. The length of the descent from 2 to 6 km with a height difference of 728 km, virgin slopes for lovers of off-piste.
Nearby hotels: "Gala-Plaza", "Melody Mountain"
Ski tows and ski resort "Alpika Service" is closed for renovation
Getting there: By airplane or train to the airport/railway station Adler, then by regular taxi bus number 105. By airplane to international airport Adler and then by the same bus number 105. The road goes diractly about 40 minutes along the route Adler-Krasnaya Polyana.
If you choose air transport (Sochi Airport is located on Highway Krasnopolyanskaya), after arrival at the airport, you can take a taxi (1500 rubles to Krasnaya Polyana) or get to the bus station Adler and then by bus. For more information about flights to Sochi can be found at Aeroflot, Siberia, Ural airlines, Kuban Airlines. The average airfare from Moscow to Sochi is 2500-3500 rubles.
Skiing Resort Krasnaya Polyana

Back page