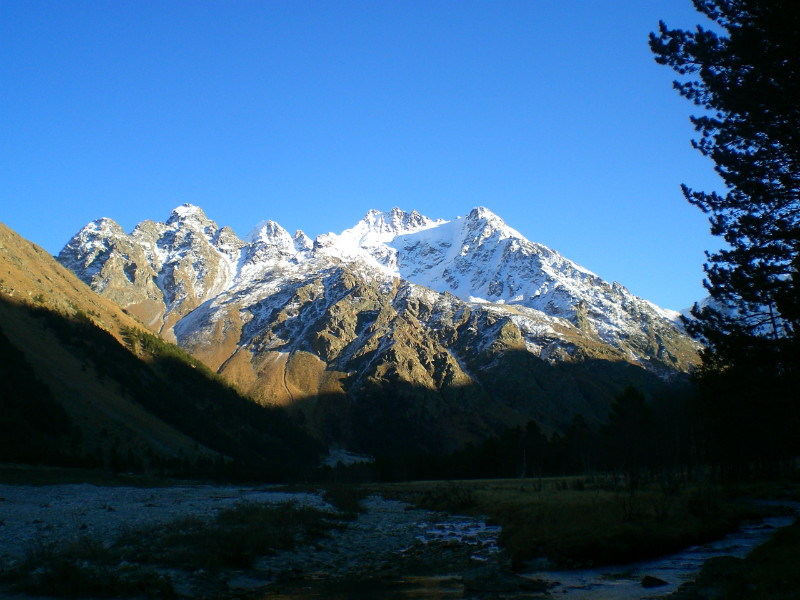 The gorge, its sheer rock sides rising thousands meters, widens somewhat soon after town Tyrnyauz. The southern slopes, now gentler, are bare of woods, the northern are overgrown with birches, bird cherries and alders and higher up, pines. Some 18 kilometers from town Tyrnyauz is the village of Verkhny Baksan. This is the point from which climbers would set off to the peaks of Elbrus in the past century. The village stands by the river Kyrtyk, a small left-hand tributary of the Baksan. In 1967 a mudflow ran down the Kyrtyk channel, and destroyed part of the village. The people who had lost their homes moved over the opposite, right bank; part of village was rebuilt.
Close to Verkhny Baksan the River Adyr-su joins the Baksan on the right. It rises from a deep narrow cleft in the cliffs, and the entrance to this miniature gorge high above the river Baksan is so inconspicuous that anyone not knowing of it would never imaging such an extensive, beautiful gorge could exist here.
There is no direct by a car to the gorge. A short road branching out takes one from the main highway to a lift which services the cars belonging to the alpine camps; only beyond it does a highway start which leads along this full, tumultuous river.
The gorge is in fact a nature reserve; there are few holiday-makers or chance visitors here, nature is left untouched, undisturbed. The specially maintained salt licks attract ibexes which come here from the alpine meadows; bears dwell in the thickets and feed among the berry shrubs. Higher up the woods grow sparser and give way to alpine meadows; then come unscalable cliffs, snow-covered summits and glaciers. The Adyr-su Gorge attracts botanists, studying the alpine flora with the diversity and wealth of plant life.
Ullu-Tau peak marks the end of the Adyr-su Gorge. By its foot stands the Ullutau alpine camp,. one of the earliest in Russia.
There are many places in the Adyr-su Gorge where ibexes pasture undisturbed, where are many bears and ulars (mountain turkeys).

Back page