| | |
| --- | --- |
| Local services in Elbrus area – hotels, huts, transport, visa support etc. | |

hotel Laguna

Number of floors – 4; Amount of places – 58; Distance to the nearest cable-ways (km) – 0,1;
Rooms – Standard Twin or Double, Junior, Suite


wifi

parking

ski-storage

cafe bar

hotel Snow Leopard

Number of floors – 7; Amount of places – 288;Distance to the nearest cable-ways (km) – 0,1; Rooms – Standard Twin or Double, Junior, Suite




elevators

wifi

parking

ski-storage

cafe / bar

sauna, massage

hotel Sky-Azau

Number of floors – 4; Amount of places – 22;Distance to the nearest cable-ways (km) – 0,01; Rooms – Junior – 2 rooms, Lux – 2 rooms, Standard Twin – 4 rooms.




wifi

ski-storage with access directly to the cableway

hotel Alpina

Number of floors – 7; Amount of places – 68;Distance to the nearest cable-ways (km) – 0,1; Rooms – Double Standard, 2-room DBL and 4-beds 3-room



restaurant

ski storage

table tennis

sauna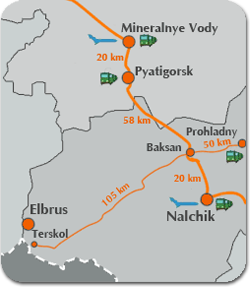 The road to Elbrus area begins from the nearest airports – Mineralnye Vody or Nalchik. The nearest railway stations – Nalchik, Pyatigorsk, Prohladny, Mineralnye Vody.
Mineralnye Vody airport one of the biggest international airport in South of Russia, has direct flights from some foreign cities: Istanbul, Saloniki, Pafos, Tel-Aviv, Shardga etc. For your convenience its also possible flights to airport Krasnodar from Frankfurt and Vienna.
The arrival through Moscow is the most common and on necessity we are glade to provide air tickets Moscow – Mineralnye Vody – Moscow or help to choose convenient domestic flight. There are flights almost every hour to Mineralnye Vody from Moscow airports, one flight to Nalchik. Its possible to choose the convenient time, to join with international flight also in case You don't want to stop in Moscow.
More and more climbers and groups choose air company Aeroflot for their arrival to Russia and Elbrus through the on-line booking of e-tickets on the site of Aeroflot air lines.
Transfer time to Elbrus area takes about 1,5 hour from Nalchik, from Mineralnye Vody about 3,5 hour.



For the processing of the visa we send to your address an invitation, with which you are to appeal to the nearest Embassy or Consulate of Russian Federation in your country. For the processing of the invitation we should know the ff. information
After obtaining this information we send you a confirmation of your invitation and a voucher by fax or by E-mail.


Ltd. KavkazSkiTur provides assistance in obtaining permits for the right of movement in the border areas with Georgia in Kabardino-Balkaria, Karachay-Cherkessia, and in the border regions of Abkhazia in the Krasnodar region of Sochi.

To the south the Elbrus region has border with Georgia. So the south side is Special border control zone where tourists must have Border permits. Its the valleys Adyr-Su and Adyl-Su – popular acclimatization places for Elbrus climbers. The Border Permit is given in city Nalchik by FSB (Federal Security Service) and must be applied 2 months before arrival with passport details.


Visa Registration

Russian law requires visitors to register their Russian visas within 3 business days of their arrival. Visa registration is necessary for every foreign citizen entering Russian Federation.

The registration can be done:

in a hotel or a hostel where you are going to stay
by the owner of the apartment if you are staying in a private apartment with friends or a family
by the company issued your visa invitation

When you stay in a hotel or hostel, your Russian visa registration would be done either at no additional charge or at some administration fee (about 5 Euro) when you check in.
If you are staying in private accommodation you have to make your Russian visa registration yourself – and this is the most hellish procedure! You and the apartment owner have to visit the OVIR office (the Federal Migration Service Department) and spend several hours in the queue. We advise you to call some law firm or our office and ask to make the Russian visa registration for you – otherwise you will feel the Russian bureaucracy at its worst!


Back page