| | |
| --- | --- |
| Ski alpine in Prielbrusye | |
The cost of ski-pass
ski-pass Elbrus 1 day
600 RUB
per person.
ski-pass Cheget 1 day
400 RUB

per person.
KavkazSkiTur Ltd suggests the breathtaking winter holiday in Prielbrusye. It's up-to-date International Centre of Tourism, Mountaineering and Skiing in the South of Russia.
Situating in the very heart of Baksan valley, Prielbrusye (Elbrus region) is one of the largest holiday center in southern Russia. Spectacular mountain view, National wildlife park protect flora and fauna, permitting nature to provide a never-ending display of magnificent color and movement.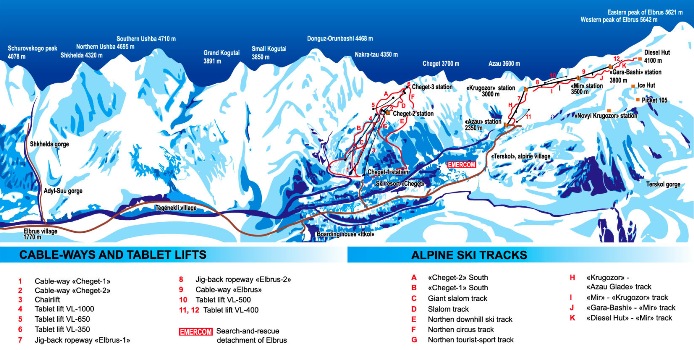 Prielbrusye becomes better equipped with every year. The sports complex on the slopes of Mount Cheget, a rocky spur between Elbrus and Donguz-Orun, and Mount Elbrus is growing, with cableways, hotels, cafes and shops. Altogether, over 23,000 guests stay every year in the tourist centers of Prielbrusye, while the cableways can carry almost a million people annually. Cableways function the whole year round.
Avalanches are a constant threat in the mountains. A special avalanche service was set up to investigate and forecast avalanches. In designing mountain sport complexes prime consideration is given to the danger of avalanches. The suitability of the region for building and the accessibility of skiing tracks.
There are great number of hotels and tourist camps. Today the tourist's complex Prielbrusye consists of 30 enterprises, including 5 tourist hotels 6 tourist bases, 5 boarding houses, 4 tourist centers/camps, with total capacity about 3000 persons. In addition, from 2002 year in Elbrus region are opening annually private hotels, capacity from 20 to 80 persons each.
---
Your comment