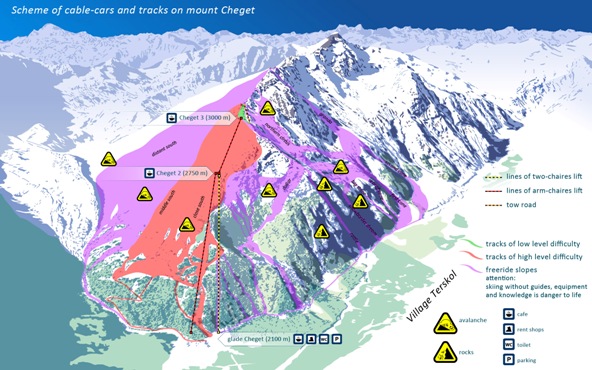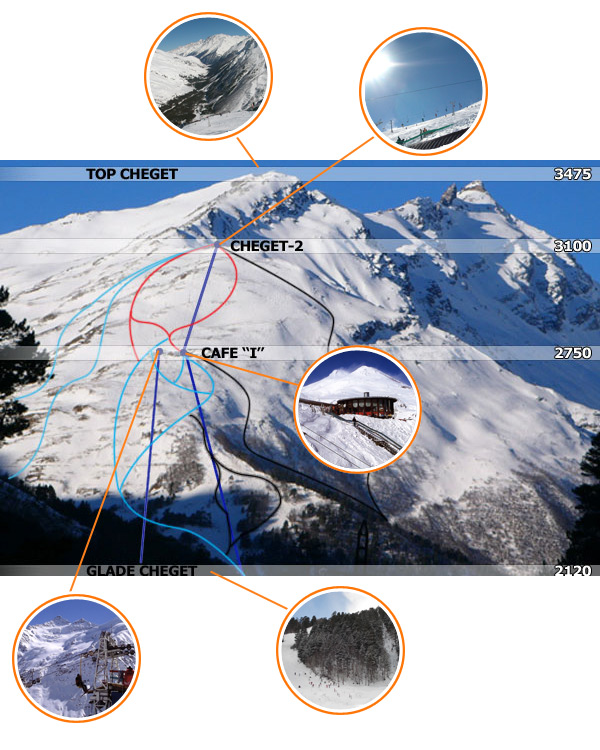 Beyond the village of Elbrus all the northern slopes are covered with dark conifers. Pines flank the highway on both sides, growing thickly. Ahead are the snow-capped mountains. The last kilometers before Terskol village, reveals the slopes of Cheget. At first the mountain and the threadlike cableways are visible, which start in the wooded foothills. Later one can discern the downward tracks of the skiers and the characteristic humps of snow formed when many skiers descents one after the other.
On the slopes of Cheget there are good tracks for training and competitions of mountain skiers; there are also nursery slopes for beginners and holidaymakers. Russian and international competitions are held here every year so as teaching and training courses for sports teams.
International competitions in Prielbrusye are becoming customary; their popularity is great. They attract the best mountain skiers from various countries.
Here on Cheget mount one appreciates fully the possibilities of the cableways (there are several here). Every trip on a cableway is a small miracle: in winter you observe the quick change and variety of snow fields and the inaccessibility of the ice and snow-bound mountains. In summer, a few minutes of ascent will take you from the hot foothills into the chill of the high plateau, to the snows. Mountain forests pass before your eyes, full of flowers and grasses which can hide a standing man; they give way to the lush greenery and bright colors of the alpine meadows and further along to almost lifeless desert with sparse vegetation clinging to rocks, a desert reaching up to the sky.
The height of mount Cheget – 3772 meters. The lifting height – 3050 meters. Change of altitude is 1140 meters. Cheget tracks are considered as one of the most difficulties of the world skiing resorts. The amateurs of extreme sport will meet skiing and snowboarding tracks of general length more then 20 kilometers. The length of world-famous ski track is 1600 m. In 17 minutes tourists climb to 2750 meters to the cafe "Ai" ("Moon" from Balkarian language).
line

cable-way type

lift time (min)

change of altitude (m)

length of ski-track (m)

1st line

Arm-chaired cable way "Cheget-1″

13

650

1 600

Arm-chaired cable way "Cheget"

2nd line

Arm-chaired cable way "Cheget-2″

11

490

1 300

3rd line

Tow road VL-300.

3

–

–

Back page