| | |
| --- | --- |
| To the Donguz – Orun Lake | |
The Registration centificate of the tour
| | |
| --- | --- |
| 1. Region of the journey | Elbrus region |
| 2. From of tourism | Mountain-hiking |
| 3. Category of complexity | – |
| 4. Kind of the tour | Radial |
| 5. Duration of the tour | 3 hours |
| 6. Number of kilometers | 6 kilometers |
The necessary equipment
| | |
| --- | --- |
| The person equipment | The group equipment |
| 1. The tourist boots | 1. The first-aid set |
| 2. The weatherproof suit | |
| 3. Goggles | |
The plan of the tour (the diagram of motion).
| | | | | |
| --- | --- | --- | --- | --- |
| Sections of the tour | Time | Way of motion | Rest places | Basic excursions objects |
| 1. The Cheget Glade – the cafe "Ai". | 15 minutes | By chair lift | The Cheget Glade | The chair-lift, the panorama of summits |
| 2. Cafe "Ai" – the Medveje Gorge. | 50 minutes | hiking | Near the obelisk in the Medveje Gorge | The Medveje Gorge, the Donguz – Orun Lake, obelisk, the panorama of summits |
The brief description of the tour
Rise by the chair lift to the cafe "Ai". The altitude is 2,750 meters. From there the view of Elbrus region summits is opening. In the north the Mount Elbrus is seen. From the foothills where vil. Terskol is situated the Shelter of Eleven and the Ice base are seen. The short Terskol spur goes south from Mount Elbrus and the Tegenekli spur – southeast. The Terskol Gorge lies between the Terskol and Tegenekli ranges. The Baksan Gorge goes east. To the south behind the stations of the cableways begins the mountain path to the lake. Go along this path in the south direction almost keeping the altitude. The path turns smoothly to the right to the west going round the Donguz – Orun – Kel Lake and comes to the Medvejey Gorge. Near the path the monument is set in the honor of the Caucasus defenders. In the upper reaches of the gorge the glacier is seen and behind it – the Medvejey Pass (1B category of complexity) to the Nenskrira Gorge. The Medvejey Gorge is the lateral west gorge of the main Donguz – Orun Gorge. The Donguz – Orun – Kel Lake is in the place where both gorges come together. The morainal lake lives on the glaciers of this part of the Greater Caucasian Range. In this lake the Donguz – Orun River has one of its sources. The Severnie Donguz – Orun Glacier lies under the walls of Donguz – Orun and Nakra summits behind the lake to the south – east. The frequent snow and ice fallings give the beginning of this glacier.
The descent way is the ascent way.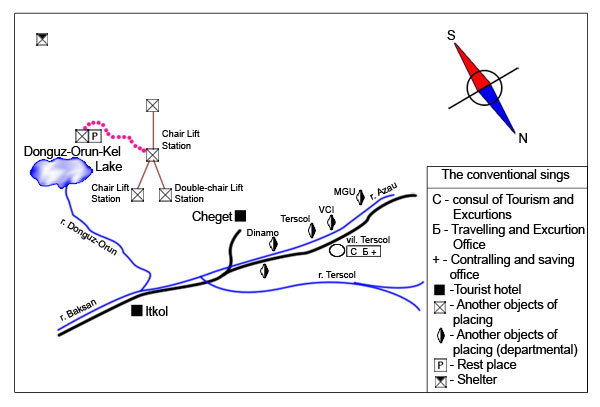 The plan scheme of the tour "To the Donguz – Orun Lake"
Mount Cheget – hike to Donguz-Orun

Back page