| | |
| --- | --- |
| To the south slopes of the Tegenekli Range | |
The Registration certificate of the tour
| | |
| --- | --- |
| 1. Region of the journey | Elbrus region |
| 2. From of tourism | Mountain-hiking |
| 3. Category of complexity | – |
| 4. Kind of the tour | Radial |
| 5. Duration of the tour | 7 or 8 hours |
| 6. Number of kilometers | 15 kilometers |
The necessary equipment
| | |
| --- | --- |
| The person equipment | The group equipment |
| 1. The tourist boots | 1. The first-aid set |
| 2. The weatherproof suit | |
| 3. Goggles | |
The plan of the tour (the diagram of motion).
| | | | | |
| --- | --- | --- | --- | --- |
| Sections of the tour | Time | Way of motion | Rest places | Basic excursions objects |
| 1. vil. Tegenekli-Buka-Bashi Peak (observing platform) | 2 hours | hiking | The observing platform (hear the triangulation point) | The gorges: Irik-Chute, Baksan |
| 2. The Buka-Bashi Peak – vil. Tegenekli | 4 hours | hiking | the Koisurulgen Gorge | The summits: Dgan-Tugan, Bashkara, The Germogenov Peak, Ullu-Kara, Bjeduch, Nakra, Donguz- Orun |
| 3. The Koisurulgen gorge – the Itkol Gorge | 50 minutes | | | |
| 4. The Itkol Gorge – the Itkol Glade | 30 minutes | | The Itkol Glade | |
The brief description of the tour
The Tegenekli Range is the east spur of Mount Elbrus. Its length is 15 kilometres. The range is finished near the village Elbrus. From the slope of the range you can see the views of the gorges, summits, ranges and passes of Elbrus region.
The route begins from vil. Tegenekli. Its altitude is 1,850 meters. From the shop go north, cross the river Baksan over the bridge, come to the foothills of the Tegenekli Range. From here the path begins leading up and to the right to the pasture. Go along this path. At the foothills of the range the path goes across the bushes of barber leaving on the left of the motion direction the rocks. After one and hour walking the path disappears in the grasslands. Go up without the path over the alpine grasslands leaving on the right the pines lonely growing. After one or one and a half-hour walking from the ascent beginning you come to the range. Go along the range of about 200-300 meters to the right to its end. There is the triangulation point on the summit Buka-Bashi. Here is the end of the route.
No going out to the route without visibility and when it is raining.
The descent way is the same as the ascent way.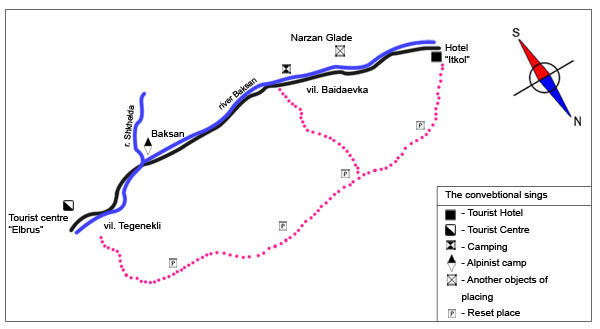 The plan scheme of the tour "To the south slopes of the Tegenekli Range"

Back page