---
Our Team KavkazSkiTur glad to be your guide in :
– Winter holidays in alpine, guided free-ride, off-piste skiing/boarding, snowshoeing in the resorts of North Caucasus;
– Climbing Mount Elbrus Summit – the highest top in Russia and Europe;
– Spring ski-tours in the mounts and valleys around Elbrus;
– Climbing, trekking, ski-tours in Bezengi Mountains and Mount Kazbek;
– Summer trekking and hiking in North and South sides of Elbrus;
– Local services for independent groups – hotels, summit camps, transport logistic, invitations/registrations/permits;
– Excursions and sightseeing guided trips to the gorges and valleys of North Caucasus.
---
Dear friends, welcome to our site. We hope it will be useful and informative in planing possible trip for those searching professional advice and support.
Our location in the center of the highest Caucasian mountain region is convenient to provide our groups services in the shortest time, for any amount of days and climbers, at any period and season. We are able to maintain prices at a minimum level that makes the rest more affordable for everyone.
KavkazSkiTur Ltd is certified Russian Tour Operator. License number – RTO 008879
Limited Liability Company KavkazSkiTur specializes in the organization:
– Holidays, excursions, skiing and ski-tours in the famous resorts of the Caucasus: Elbrus, Dombay, Georgia etc;
– Reservations and accommodations in hotels, sanatoriums, mountain huts, camps, guest houses and private hotels in the North Caucasus;
– Transport services in North Caucasus and Georgia. Meeting and transfer from the airports and railway stations Mineralnye Vody, Nalchik, Pyatigorsk, Vladikavkaz, Grozny, Sochi, Krasnodar, Nevinnomyssk to the mountain areas of Caucasus Republics — Kabardino-Balkaria, North Ossetia, Karachaevo-Cherkessia;
– Climbing programs and mountaineering in Caucasian mountains – Mount Elbrus North and South sides, mount Kazbek South side, Bezengi mountain area;
– Excursions and sightseeing guided trips to the gorges and valleys of North Caucasus and Georgia;
– Booking and accommodation in the spa facilities and sanatoriums in resorts Nalchik, Caucasian Mineral Waters and city Sochi;
– Visa Invitations/letters/support to Russia and Visa Registrations.
– Assistance in obtaining Border Permits in the border areas of North Caucasus.
The direct closeness to the resorts and mountains allows us to meet our tourists in airports, accommodate in hotels, accompany throughout all the program, to keep abreast of possible changes and quickly resolve unexpected situations.
For those interested in mountain tourism we can offer interesting tourist programs in the Baksan, Bezengi, Chegem gorges of Kabardino-Balkar republic.
In some cases, taking into account the wishes of individual tourists and members of tourist groups, who expect to receive separate services we carry out such applications too.
For foreign tourists KavkazSkiTur Ltd. offers also the ff. services:
– Visa support, that is Tour Voucher and Confirmation, for the entry into Russia;
– Registration of foreign citizens in the local visa and registration office FMS (Federal Migration Service);
– Organization of air travel and railway tickets to the airports/railway stations in the cities of Mineralnye Vody, Nalchik, Vladikavkaz, Grozny;
– Services in Moscow, St.-Petersburg, South of Russia, like: accommodation in hotels, transfers airport – hotel – airport, guides;
About us in numbers
Resting with us
over 6000
people annually
We are one of the
leaders of travel
market in the region
We are working successfully
for over 20 years
in tourism
We provide
more than 80 types of
travel services
Besides our functions include different kinds of services on the routes by the qualified guide-instructors, consultations concerning the mountain safety, mountain-skiers training organization, support and escort of our clients at the solution of the difficult questions sometimes arising from the relationships with the hotel staff, local residents, executive organs.
KavkazSkiTur provides assistance in obtaining permits for the right to residence and movement in the border areas with Georgia in Kabardino-Balkaria, Karachay-Cherkessia, North Ossetia.
Tourism infrastructure is expanding at a tremendous speed, the number of tourist firms unusually large, and require a lot of time and money to find among them professionals who know their job and caring about their customers. KavkazSkiTur saves your time, money and you will be satisfied with the quality of our service.
Travel Company "KavkazSkiTur" for the years of its existence is not static and tends to create all conditions for a successful and fruitful rest of its customers, to each of them carries a personal approach. For your convenience on our website we offer a system of reservations in hotels, boarding houses and sanatoriums. Convenient interface and links can help you easily make your booking and get the information you need.
We care about our customers throughout all the holiday: accommodate, transportation and meetings. At all stages of your trip you can easily contact us and count on our assistance, since we are located directly in the resort area.
You can also get professional advice by contacting us by phone or email.
Yours faithfully,
Director KavkazSkiTur Ltd
Lyana Kerefova

Russia, Kabardino-Balkarian republic, Nalchik city,
Gorky street 74


phones: +7 8662 774043, +7 928 0828413
mobile: +7 928 6914405 ; fax: +7 8662 442026


info@kavkazskitur.com


lyana.kerefova@gmail.com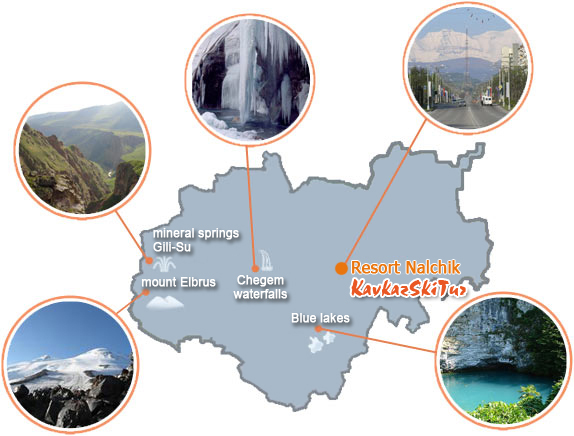 We are always open to new cooperation and ready to provide you with individual services. If you are interested in cooperation with our company, please call or email your questions, we will provide you with more detailed information.
Travel company
KavkazSkiTur LTD
North Caucasus — travel and mountaineering!
Any questions?
Please contact us